Project Haystack is excited to announce the publication of the Haystack Connections Magazine Fall 2019 issue – the 6th edition of the magazine. It is a true testament to the collaboration that the Haystack Community is committed to and the accomplishments that have been made this past year and the ones anticipated as we head into 2020.
Haystack Connections reports the news from the Haystack community and provides updates on adoption of the Haystack standard by consultants, end users, manufacturers and software developers, and presents stories demonstrating the success of the community as we work together to make device data easier to use across applications of all types.
An official press announcement will be released on Wednesday, October 30, 2019 at 3:00 PM EDT.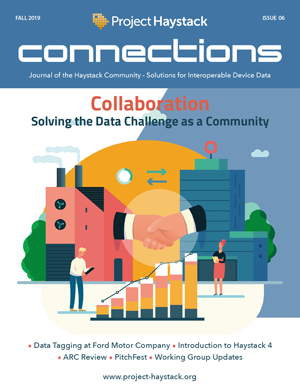 The theme is 'Collaboration' and this issue holds the most contributed articles, 11 in total, by Project Haystack members and supporters that include Ford Land, ARC Advisory Group, Lynxspring, Tridium, Conserve It, Open Source Strategies, J2 Innovations, Intelligent Buildings, BASSG and Bueno Systems. Brian Frank provides us with a full update on Haystack 4, as well. I thank all of you for "collaborating" on another, very informative Connections Magazine.
Just in case no one noticed yet, Project Haystack has a new identity! With the announcement of Haystack 4, it was decided that it was time to update our "Tag Logo". We also updated our Project Haystack Founding Member, Associate Member and Supporter logos. Here, in this issue, they are officially announced and are being used. Along with this, we launched a new Marketing website to compliment the Developer website. Now, the Developer website is focused solely on the continued development of the Haystack methodology and assignment of tags, the activities of the Working Groups and the developer Forum conversations. The Marketing site is designed to inform the community on all the who is where and when, Project Haystack Logo files and new Marketing Kit, press releases, our members list and how to become a member, and of course, the home of our Connections Magazine.
Click Here to download the Haystack Connections Magazine Fall 2019 issue.
We want to thank all of the Advertisers that contributed to this issue of the magazine, and we want to express our sincerest gratitude to the companies and people that dedicated their time to providing such valuable insight and content for this issue of the magazine. The Project Haystack community truly represents "What Collaboration Can Accomplish"!
SHARE ON: