Current Issue
Download
Message from the Board of Directors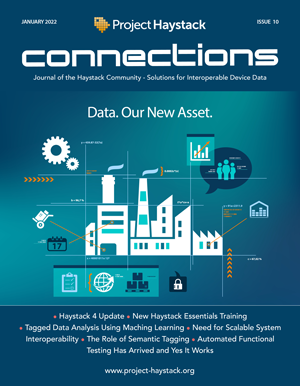 Project Haystack is a globe-spanning, volunteer-driven, effort and it's easy to miss all the advances and milestones this unique organization continues to deliver to the industry. I myself often find it hard to keep up even though I am intimately involved. So, as we start a new year, I think it's worth commenting on some of those advances.
Corporate Membership Grows in Numbers and Reach
More and more organizations recognize the value provided by Haystack and have adopted it in their products and services and are demonstrating their support by joining as Associate Members of the organization. Notably, these organizations are often competitors in the market, yet come together to collaborate on the critical work of achieving data interoperability – work that will benefit both the individual companies and their customers. Just look at the current roster of Founding and Associate Members.
New Working Groups
One of the key advantages of Project Haystack is that we bring together domain experts that understand diverse and complex equipment systems, to work directly with data modeling experts to apply Haystack tagging to systems and devices of all types. This is the reality of the challenge - it takes both skill sets – people that intimately understand complex equipment systems and people that understand data modeling, software, and the tools provided by Haystack. This direct involvement by real world practitioners across the globe is one of the primary forces driving adoption of Project Haystack.
Some notable, recent examples include:
Labs Working Group meets every two weeks to advance core concepts
VRF (Variable Refrigeration Flow) Working Group
Aquifer-based Thermal Energy System (ATES) Working Group
Greenhouse Gas Working Group
Air Quality Tags
DoE BENEFIT Project Funding Award
Project Haystack was selected for funding under the DoE Building Technologies Office Energy Efficiency Frontiers & Innovation Technologies (BENEFIT) Funding Opportunity. Submitting for this award was a huge undertaking for a core group of community members. The award launches a project under which Project Haystack will create a validation framework for semantic metadata models to bring the industry an accreditation system for semantic interoperability. This will lower costs, reduce installation time, improve delivered quality, and remove knowledge barriers for service implementers. The project kicks off in the New Year (2022) with technical team participants from Clockworks Analytics, Switch Automation, SkyFoundry and NREL. The award is a huge vote of confidence for the Project Haystack effort and organization.
Haystack Connect 2021 Conference
2021 also saw the organization host the biennial Haystack Connect conference – this year converted to a full virtual, live event due to the pandemic. Speakers from around the world presented case studies, new tools and products, and updates from Working Groups. For proof of the value and adoption of Haystack worldwide look no further than the presentations from the conference. All the content from the event was recorded and is available for viewing starting on Page 46 or by visiting: https://www.haystackconnect.org/schedule.
Continued Outreach and Promotion of Industry Collaboration
Throughout the history of the Project Haystack organization, we have actively fostered openness and inclusion to bring together input from all facets of the industry.
Notably, in early 2018, we were successful in gaining support from ASHRAE BACnet and Brick to come together to try to align the work being done by each respective organization, with the goal of reaching a unified, consensus-based standard to address semantic interoperability of data from building systems. That collaboration was formally announced in March 2018 and proceeded with good engagement and results for about 18 months. The input and critique received through that process led directly to many of the advances that became part of Haystack 4. We continue in our effort to help lead the industry to achieve the goal of a unified approach for semantic interoperability of building system data.
And on that note, I will close with my sincere call to the industry – those active in the Project Haystack organization and those working to address the challenge under other organizations – to revitalize the effort to collaborate in order to achieve our important goals. Our customers deserve no less and history will not judge us kindly if we let this opportunity slip away.
John Petze
Executive Director, Project Haystack
Marc Petock
Executive Secretary, Project Haystack
Get The Latest News
Sign-Up for News Delivered Right to Your InBox