Current Issue
Download
Message from the Board of Directors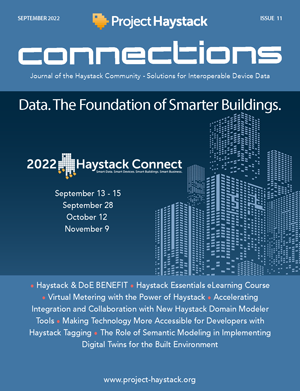 Project Haystack has recently celebrated its 10th anniversary. Over the years, this open-source community has progressed in every possible way - technologically, membership, sponsors, evangelists and ultimately by the number of buildings, assets and other infrastructure applying it in the real world.
As new Executive Directors take on our shared role, we are honored and excited to lead an organization that has pioneered the development of a meta data standard for the built environment and has lead the effort that has made Haystack the most deployed standard worldwide – today utilized in over 50,000 facilities worldwide.
The importance of this effort to society is clear. Data is fundamental to businesses. Data is essential to operating and managing our buildings and for them to become smarter. Data is now an irreplaceable asset. However how businesses handle and manage data, continues to evolve. And so does Project Haystack.
Along those lines, we have defined a few focus areas which we would like to progress the most:
The ongoing advancement of the Project Haystack standard. This includes both the expansion in the number of applications, systems and devices described through the standard, but also the evolution of its ontology - where we have already made many good steps with Haystack 4
The further off-the-shelf adoption of Project Haystack in systems and IoT devices. For that purpose, we want to progress the open-source tools and documentation which make it easier for anyone to leverage Project Haystack in their technology and products from the very beginning
Continued dialogue with other standard bodies for interoperability. We believe that it requires continued effort to bring the different data standard initiatives together and work on solutions that make those interoperable in the real word
Increased communication and education on Project Haystack. To achieve that, we are aiming to expand the number of channels to communicate with the community and our members. Further to that, we continue to invest in a range of trainings and documentation on Project Haystack to make the standard and its benefits more accessible
Further expansion in EMEA, Asia-Pacific, Australia and beyond. While the Project Haystack standard originates from the US, it has already today spread across the globe. We would like to continue this expansion, also leveraging that the three of us originate from US, Europe, and Australia
We see this list as a good start, but even more so we are curious to find out from our members and the community, where they would like to see the focus, where they would like to contribute and what we might have missed. For this reason, and because we would like to introduce ourselves further to the community, we will over the coming months pursue a series of interviews, discussions, and workshops to get more input from the community. Take this as an invite to approach the three of us and help shape how Project Haystack evolves from here!
Haystack Connect 2022 and 2023
In 2021, amid the pandemic, we saw that holding Haystack Connect as a virtual event and making registration free reduced barriers to attendance. And with that, we had record attendance and were able to expand the worldwide reach of this event. So, in 2022, we will continue this success story. One of the differences for 2022 will be the days and times. Each day will consist of a 90-minute session, which we think is the perfect amount of time for attendees to focus and engage. We will still have three days in a row to start—that will be September 13-15. But instead of stopping there, we will continue the program with additional days including September 28, October 12 and November 9. If you have not done yet, register now!!
The virtual events have been great for Project Haystack. But there is also a need to get back to some of the networking and interactions that only an in-person event can provide. There is value to be had in both types of events and for us, we like the idea of these working in combination. This virtual series will help lead up to an in-person Haystack Connect which we target for May 2023!
New Members
Haystack benefits from so many different stakeholders, making this standard grow and flourish. One key group are our Founding and Associate Members. We are glad to see that the uptake of Project Haystack continues, also across the globe. Clockworks Analytics has stepped up to become a Founding Member. Intellienergy Tech, and Coster Group are our latest additions to the group of Associate Members.
As we like to say. A lot has been done, a lot more still to come! We are excited to go on this journey with this awesome Project Haystack community! We are excited to serve on the board and our doors are (virtually) always open to exchange, collaborate, discuss, and evolve this community together!
Keep making it happen!
Thank You.
The Project Haystack Board of Directors
Nick Gayeski, PhD, Co-Executive Director
Richard McElhinney, Co-Executive Director
Alex Rohweder, Co-Executive Director
Marc Petock, Executive Secretary
Get The Latest News
Sign-Up for News Delivered Right to Your InBox