Current Issue
Download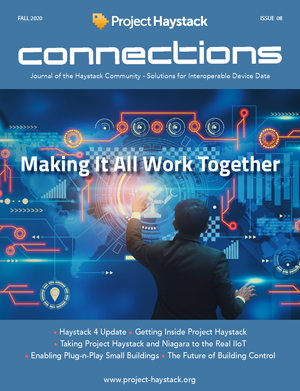 Welcome to the Fall 2020 issue of the Project Haystack Connections Magazine. This eighth issue demonstrates how the Haystack Community has continued to further solidify the value brought by its widely adopted open-source methodology for semantic tagging in the built environment.
Project Haystack has continued expanding the standards for semantic modeling methodology and building on the tagging libraries for more and more applications. This community-driven, open-source process is engaging companies that work on different facets of specifying and implementation. They understand the importance of "Making It All Work Together".
The Connections Magazine Fall 2020 issue consists of articles, conversations and updates from Project Haystack members and supporting companies. Here are just a few highlights - a conversation between Lewis Martin of CM Industrial and Project Haystack Executive Director John Petze, "The Role of Open Source - Getting Inside Project Haystack". Richard McElhinney, Chief Software Architect at Conserve It, contributed an article on "Taking Project Haystack and Niagara to the Real IIoT". "The Haystack Byte Journey Continues" is an article written by Alper Üzmezler, Managing Partner of BAS Services & Graphics. Paul Ehrlich, P.E., Founder and President of Building Intelligence Group LLC, collaborated with Veronica Adetola and Draguna Vrabie of the Pacific Northwest National Laboratory (PNNL) on two articles, "The Future of Building Control – Rule-based or Predictive?" and "Co-Design a New Process to Improve Control System Design and Delivery", both highlighting the importance of tagging to achieve the goals of advanced control. "Enabling Plug-n-Play Small Buildings Using Haystack Tagging" was contributed by Scott Muench, Vice President of Customer Experience at J2 Innovations. Rob Glance, Vice President Information Technology of BuildingFit contributed the article "Finding Our Way: Take the Established Success Path for Implementing Building Analytics". Jean-Simon Venne, CTO of BrainBox AI, contributed his article "Resolving Pain Points in Tagging Via the Use of Artificial Intelligence".
Brian Frank, Technical Lead of Project Haystack, provided an update on Haystack 4. The Project Haystack website, www.project-haystack.org, is being transitioned to the new Developer website, www.project-haystack.dev, to focus on the new Haystack 4 methodology and assignment of tags. The activities of the Working Groups and the developer Forum conversations will be transitioned to the Developer site soon, as well.
John Petze, Executive Director and Marc Petock, Executive Secretary of Project Haystack contributed the following two articles respectively, "Data Semantics in The Built Environment: Learning the Concepts of Data Modeling of Facility and Equipment Systems" and "Smart Analytics Requires Smart Data".
Since our last issue of Connections Magazine, e-Magic became the newest Associate Member of the Project Haystack organization.
And we are happy to announce under Events, to SAVE THE DATE for Haystack Connect 2021. It will be a virtual conference held May 4 - 6, 2021.
Project Haystack Working Groups contributed updates to their work. And as always, we have sections dedicated to Tools for Developers and Integrators and How to Get Involved, a curation of social media highlighting Project Haystack Members new Projects, Practices and Products, and our Members Directory. There is a list of all the Advertisers, to whom we thank for their sponsorship that supports publishing our Connections Magazine.
For more information about Project Haystack and how to become a member, is available at marketing.project-haystack.org and for Developers, please visit www.project-haystack.org and www.project-haystack.dev.
Get The Latest News
Sign-Up for News Delivered Right to Your InBox