Current Issue
Download
Message from the Board of Directors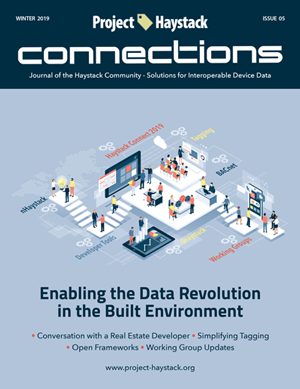 This year marks the 8th anniversary of Project Haystack and the 4th Haystack Connect conference. From the start of the organization by a handful of people in March of 2011, through our conferences in 2013, 2015, and 2017, this 5th publication of our Haystack Connections magazine, and the many speaking engagements we have participated in, the open-source Project Haystack initiative has grown globally. Today, it is clear that Project Haystack has become the most widely-adopted and fully-developed approach to "marking up" device data, an essential requirement to successfully exploit the value of device data.
In addition to the many articles and resources you will find in this issue of Haystack Connections magazine, we want to make special mention of the upcoming Haystack Connect 2019 (www.haystackconnect.org) Conference, taking place May 13-15 in San Diego, California at the Paradise Point Hotel.
We are proud to continue producing this unique event. There are lots of conferences and events in our industry, so why Haystack Connect? First, it is driven by the community and not controlled by a single company. Second, it is the only event dedicated to the topic of data semantics and modeling for the Building Internet of Things (BIoT). Third, Haystack Connect is the place where an entire community of companies, researchers, practitioners, technologists and end users on the leading edge of utilizing device data and driving business outcomes, come together to share their technical and business knowledge in an open environment. Fourth, it is focused on the challenge of working with data from the ever-growing number of smart devices, equipment systems, and software applications in the built environment. It is wide in scope as community members highlight the needs and challenges encountered in real-world applications and share their experiences and solutions, all built on the foundation provided by the Project Haystack tagging methodology.
Expect to hear from companies and people from around the world sharing their understanding, knowledge, best practices and solutions that are making the "semantic facility" a reality. You will see software applications that streamline data tagging, hardware products that embed tagging in the end device, control logic that automatically finds its targets and much more. All moving the industry closer to true plug-and-play functionality and more intelligent systems.
2018 was a significant year for the Project Haystack organization. We achieved numerous milestones, including an increase in the number of contributors and working groups, the announcement of collaboration with BACnet and Brick to pave the way for a single, unified approach to data tagging for the BIoT applications, and the continued acceptance and specification of Project Haystack globally.
Today, well over 15,000 facilities are known to use Haystack tagging. Government agencies are specifying its use and numerous suppliers of software and hardware products have built Haystack tagging into their products - all of which has been driven by the community.
While we opened this message with the statement that the Haystack methodology has become the most widely adopted and fully developed approach to "marking up" device data, that doesn't mean our efforts are complete. The building automation industry and society in general, are just beginning to learn how to use data and exploit the value it contains. New challenges, deeper understandings, more input from different viewpoints and diverse applications, will continue to drive the work of the organization and the volunteers of Project Haystack and Haystack Connect.
The board would like to take this opportunity to thank them all and we look forward to our gathering in May of the Project Haystack community at Haystack Connect 2019.
Get The Latest News
Sign-Up for News Delivered Right to Your InBox