We know open source is the future of smart buildings, supporting innovation and creating automation innards. It brings countless benefits to building owners, property managers, end users and automation providers.
To find out why this is becoming a popular opinion throughout my network, I spoke to John Petze, Founder of Project Haystack and owner/co-founder of SkyFoundry, as well as many other senior leaders in the smart buildings industry.
Open source is nothing new to the software industry. It's been around for over 40 years. However, for smart buildings, the history is far more recent and its uptake could change this industry as we know it.
"If you want to be successful, everything has to be open source. Otherwise you're restricting your potential." Ronald Zimmer, President & CEO of CABA.
Initiatives like Project Haystack are leading by example for open source solutions. This project received the Best Intelligent Building Technology Innovation award back in 2013 at Realcomm, the commercial real estate conference.
Project Haystack promotes a community driven approach that focuses on the development of standardized tagging conventions and taxonomies. Its goal is to provide semantic meaning to the operational data produced by equipment systems and smart devices.
Utilizing a standard, open source data tagging means that all collected data from devices will be both machine- readable and people-readable - reducing engineering hours for back-end tasks like data processing and mapping. This will make processes more streamlined, sustainable and cost-effective.
"Eliminating manual data would bring huge fiscal benefits and streamline the beneficial use of equipment data for analytics and reporting." John Petze, Executive Director of Project Haystack and COO & Co-Founder of SkyFoundry.
Improving lives for building owners, open source is highly flexible because it allows you to integrate different smart devices into your systems. This means that you can customize solutions that work best for you and shop around for the best-priced, open source hardware.
Open source also removes building owners' reliance on vendors and, with that, reduces the risk of changing vendors which can be costly if their systems aren't compatible.
While the community aspect of open source may cause cyber security concerns, you might be surprised to find out the case is the opposite.
Open source networks have higher robustness, security and auditability. That's because each piece of hardware/ software is tested in multiple ways, through different systems and by a variety of member companies. With open source, you can also write your own code for a piece of hardware or a personalized solution, again strengthening devices within the network.
"Thanks to AI, the merging of OT and IT is happening at light speed." Terry Swope, President & CEO of Lynxspring.
The move to open source is inevitable because technology is advancing quicker than we can keep up.
That means physical controls equipment is now outgrowing its associated software support, meaning constant updates are required. This can't be done with closed source unless you adopt the 'rip it up and start again' mentality, accepting this will need to be done nearly every week with very costly consequences.
Switching to an open standards-based system solves this issue. It keeps everything compatible, making it easier and cheaper to stay in touch with the latest technology and updates.
"Every building is a snowflake, which means the data needs to be managed and the systems are fragmented. Haystack applies standardization and structure to data. Whether it's one building or another." Leon Werfel, Founder of BUENO.
While this all sounds wonderful, there are some hurdles the industry must overcome to reap the rewards of an open source community.
John Petze and I agreed that education is one the biggest barriers to adoption.
Companies need to understand that this is where the market is heading, appreciate the countless benefits open source offers and move away from their single use, rigid system - never mind if that's 'what they know'.
At some point companies will have to make the leap of faith to open source providers. Without this, many closed source companies will maintain their market position asking the question: "who would you call in your service agreement, should something go wrong?"
There's too much potential at stake to keep the market at standstill like this though.
There are multiple open source initiatives on the market, from data tagging standards, to hardware designs that can be downloaded and produced by a range of manufacturers. While the choice is great, some companies are waiting to see which will be the market favourite before adoption. That's because the best adopted will be the strongest.
Whatever initiative ends up on top, open source is the future of smart buildings.
This article was contributed to the Project Haystack Spring 2020 Connections Magazine.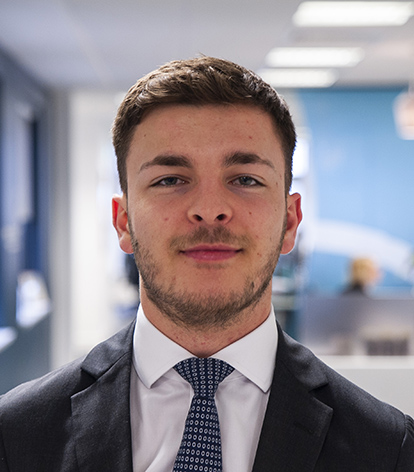 Lewis Martin is a Business Consultant specialising in recruitment within the building automation industry. Experienced working on behalf of many major clients, Lewis possesses the knowledge, skills and specialist network to successfully build talented teams for his clients. Lewis is passionate about his work and finds it exciting to be working within such a booming industry.
SHARE ON: