Current Issue
Download
Message from the Board of Directors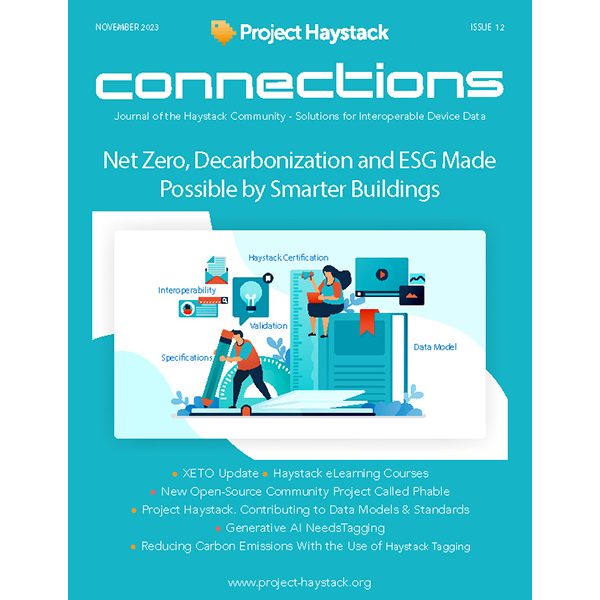 Thank you to everyone one engaged in the Project Haystack community working to advance the use of building data and metadata to create more value from buildings and drive down carbon emissions through these efforts! We are excited to work with you to move Project Haystack forward and to foster greater adoption and innovation in the years ahead.
This year we had an amazing Haystack Connect event in Nashville that was well attended by movers and shakers across our industry. We heard about lots of great work across the Haystack community, such as storing Haystack tagged models in cloud repositories, enhanced tools for Haystack tagging, new products leveraging Haystack and so much more.
We were especially excited to see the new ideas around validating and standardizing Haystack models for greater interoperability and fulfilling specific use cases. For example, two great initiatives shared their progress in this direction named Project Xeto and Hayloft. Funded research to advance the Project Xeto validation tools are continuing and have great potential to make real interoperability easier and more scalable. The feedback we have received around the BENEFIT Project and the Xeto technology have been positive and it is pleasing to see the enthusiasm our community has for this groundbreaking work. It is still to be decided how initiatives like these will be incorporated into Haystack and how validation tools for models can be made available throughout the community.
Since Haystack Connect 2023 in June, the Project Haystack Board of Directors has been reflecting on the future, including the vision and strategic mission for our community and technology, as well as looking at implementing some of the real practical changes required to take us as an organization forward into our next decade. Part of that vision is working with member organizations to refine the mission statement and develop structures to work collaboratively across the industry and to have Project Haystack continue to be adopted as the leading standard for data and data modeling. The Project Haystack Organization has traditionally focused on providing the general concepts for standardizing and optimizing the use of data, but we also see the need for more rigorous validation in the future. We want to open a dialogue with the community on how best to do this. So stay tuned!
Looking forward, we are excited about the idea of working more with the Haystack member companies to inform the evolution of the Haystack ontologies, to promote the adoption of the technology, and to foster interoperability among applications and devices supporting Haystack for the benefit of customers. We're also enthusiastic about providing technical contributors an easy and well-defined pathway to incorporate new ideas into the Haystack ontology through the Project Haystack Working Groups.
And, speaking of member companies, we are glad to see the growth of Project Haystack continue across the globe. Alperia Group, Midea, Nanjing Chinwell Technology and OneSight Solutions have all become Associate Members in 2023.
The need for Haystack, building ontologies, and metadata standards has never been greater. This community is diverse, global, and applying metadata for real-world applications in real buildings. It is a community that spans integrators, mechanical engineers, commissioning agents, researchers, and many other disciplines with a shared vision that metadata standards and interoperability will transform the industry for the better for many years to come. Thank you for your contributions to the community and to moving the vision forward!
We are excited to continue on this journey with such an awesome Project Haystack community! Keep making it happen!
Thank you!
The Project Haystack Executive Board Members
Nick Gayeski, PhD, Co-Executive Director
Richard McElhinney, Co-Executive Director
Alex Rohweder, Co-Executive Director
Marc Petock, Executive Secretary
Get The Latest News
Sign-Up for News Delivered Right to Your InBox