Current Issue
Download
Message from the Board of Directors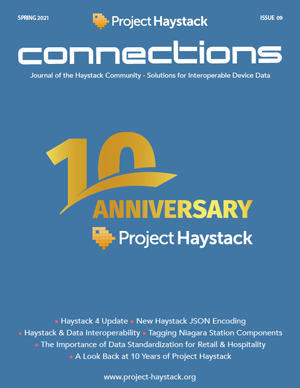 This year, 2021, marks ten years since the beginning of Project Haystack. Wow, ten years. Who would have thought?
Celebrating a 10-year anniversary milestone is a big achievement in itself. No individual can take the credit of all those years of success. It is a celebration for all who have been a part of the movement through all these years.
Any organization's growth and accomplishments depend on people. For Project Haystack, that is a community of volunteers that devote their time and effort to addressing one of the key challenges in achieving the promise of the IoT and the goals of sustainable, intelligent, efficient built environment. Our community not afraid to welcome diverse viewpoints, rethink technology based on new learnings and requirements and to change. It takes a remarkable community. And the Haystack community is no less than remarkable.
As we celebrate Project Haystack's 10-year anniversary, we want to thank the global community – our founding members, associate members and the independent contributors for their commitment and effort. Thank you to the curators of the methodology; thank you to the multitude of working groups; thank you to the industry manufacturers who have made it part of their technology and solutions; thank you to the integrators who have utilized Haystack in well over 30,000 facilities; thank you to the owners, operators, facility managers and government organizations who are using Haystack in the daily operations of their buildings and IoT deployments.
We are very excited to see what the next 10 years will bring. Here's to the next 10!
John Petze
Executive Director, Project Haystack
Marc Petock
Executive Secretary, Project Haystack
Get The Latest News
Sign-Up for News Delivered Right to Your InBox