Current Issue
Download
Message from the Board of Directors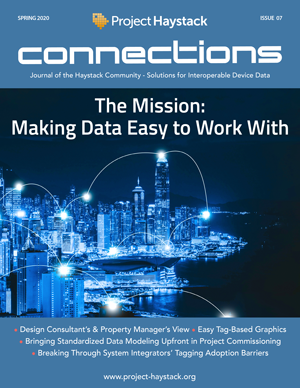 This 7th issue of our Haystack Connections magazine comes at a unique time for the world and our industry. As we look back on our planning process, which starts months before release of each issue, our final review created a feeling that can best be described as nostalgia – nostalgia for what we all viewed as normal in 2019 and even as we began 2020. Plans for meetings, trade shows, speaking engagements, and even initial planning for our Haystack Connect 2021 conference, changed right before our eyes. Like you, we see those plans on hold and await a clear path forward in business and life.
That said, one thing that remains unchanged and in fact has accelerated during this time, is the importance of data to society and across industry. Now, there is an urgent need to bring diverse data together so that it can be transformed into insight, knowledge and value, quickly and easily. Hence, the theme of this issue "The Mission: Making Data Easy to Work With". Interestingly enough, we had selected this theme well before the pandemic. We think you will agree it is even more relevant now.
Since our founding, the Project Haystack organization's mission has been to make data easy to work with by providing an open-source methodology for defining the meaning of data produced by devices and equipment systems using "tags" to represent facts and descriptors. Haystack tagged data is understandable to machines and software applications and the humans involved in working with these equipment systems. The Haystack methodology is fully extensible, which means that it can be adapted to virtually any application.
The proof of Haystack's success is in the thousands of facilities worldwide currently specifying and using Haystack tagging in building equipment and management systems.
The community aspect of Project Haystack has been essential to its success and remains so. Project Haystack provides the "meeting place" for the people involved in managing and operating facilities to work together to address and overcome the challenges of integrating data from diverse systems and devices.
These real-world practitioners have a vested interest in creating efficient, deliverable solutions to their project needs and bring insight from the ground level. Their contributions and the stories they share in this publication accelerate learning and best practices.
The built environment and the systems that support it and make our daily lives and the economy possible, is complex and generates incredible amounts of data. That data has exceptional value - not only to drive efficiency and sustainability, but also to support safety and economic activity. We want to thank all of the contributors from around the globe for their stories and also thank you for your continued support of Project Haystack.
John Petze
Executive Director
Project Haystack
Marc Petock
Executive Secretary
Project Haystack
Get The Latest News
Sign-Up for News Delivered Right to Your InBox